Product Details
DON'T LET YOUR CAT BE LONELY FOR TOO LONG!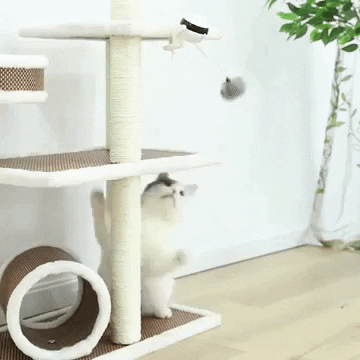 Is a toy that allows your cat to play on its own, so you can get on with other things you need to do.


The irregular up and down movement will help to bring out your cat's instincts as a hunter, whilst helping them to remain fit and healthy. 


It is quick and easy to install by simply clicking on any table after putting in the batteries.


Once this toy has been triggered, it will run for around 5 minutes before it turns itself off automatically.


If your cat decides they've played with it for long enough you can turn it off using the button on top whilst it is still in operation.


If the fur ball on the end becomes damaged or your cat can remove it, you can then replace it with a new one.


You can even buy additional toys to attach to it that will help to keep your cat amused for even longer.

The Electric Yo-Yo Lifting Ball is made of rugged ABS resin material to avoid breaking no matter how long your cat is playing. Also, the furball is not harmful to your cat's health.
Any fastidious cat will be satisfied.
As the Electric Yo-Yo Lifting Ball is highly portable hence you can clip it anywhere, like on your desktop, table, chair, or any flat surface with a hanging side.

The base of the ELECTRIC YO-YO LIFTING BALL toy is detachable, hence you can also play with your cat while keeping the yoyo ball in your hands.
🔥 Super Easy Installation! 🔥

✔️ Install 2 x AAA batteries.

✔️Connect the ball to the base. 

✔️Install it at your favorite place.

✔️Press the switch to start the fun.
Notice:
✓ This product operates on 2 AAA batteries
✓ This product is not suitable for dogs, can not be washed, if necessary, can be cleaned with a cloth.
✓ Balls are a vulnerable part of a toy and can be purchased for replacement after damage or making other funny materials on their own.
✓ Due to the problems of lighting effects and shooting angle, there will be a certain tolerance in the product, please understand.
✓ Due to manual measurement, the product has some size tolerances.
The package includes:
✓ Electric Yo-Yo Lifting Ball Cat Toy x 1
✓ This toy operates on 2 AAA batteries(not included)
Only express delivery:
👉 US/UK/CA/AU shipping time: 4-14 business days

👉 International shipping time: 14-28 business days

levering duurde even. uiteindelijk in goede orde ontvangen
Parfait et reçu très très vite, merci
Nice pile of very short duration